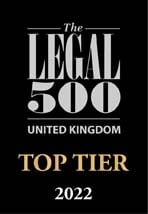 50 Areas Ranked in The Legal 500
Our expert lawyers are ready to help you with a wide range of legal services, use the search below or call us on: 0330 024 0333
Ambitious businesses are the powerhouse behind the UK economy. They embody the characteristics needed to excel in uncertain times and seize opportunities when they arise and we are here to help.
Litigation & Dispute Resolution
Our team of solicitors is carefully structured to ensure that you get the right level of legal, commercial and specialist support for the wide variety of legal issues that daily life brings.
We Have 10 Offices Nationwide
We're here to support you whenever you need us, our offices are conveniently located in city centres to make things easy. We'd love to hear from you, so get in touch.
Keeping you up to date with all the latest views and insights on current topics