Crossword Cybersecurity plc | Propelling to growth
Crossword Cybersecurity plc | Propelling to growth
Helping our client raise the funding they needed for the next stage of their growth.
The Challenge
The team at Shakespeare Martineau has worked very closely with Crossword Cybersecurity since its inception in March 2014. As the company has continued to grow and go from strength to strength we have provided advice and assistance on a number of matters including the administration of the company's seed funding round and various placings to date; board meeting support; routine compliance and corporate governance advice; annual reporting services; bookkeeping and management accounting services; board evaluation; and establishing share option schemes.
In June 2015, we assisted the company with the administration of £1.5m placing and provided corporate governance support on the admission of the company's shares to trading on the ISDX Growth Market and latterly transferred to the NEX Growth Market. Three years later with limited funds and liquidity available on the NEX Growth Market, Crossword looked to alternative ways to raise additional capital to assist with its growth strategy.
Our Solution
The Alternative Investment market was identified as being the most suitable and natural progression for the company's next growth phase, a market with considerable liquidity and a strong focus on tech companies. In December 2018 the company floated on the AIM market in London with a market capitalisation of £13.6m following a successful placing and subscription of nearly £2m. The company remains listed on AIM and has a current market capitalisation of £18m.
The team advised on all corporate and commercial aspects of the listing, including employment, intellectual property and company secretarial considerations. The company secretarial team continues to provide a fully comprehensive compliance and board advisory service to Crossword.
The team at Crossword work with research intensive European university partners to identify promising cyber security intellectual property from research that our industry partners tell us meet emerging real-world challenges. The company now also has a very strong consulting arm.
Results
Our in-depth experience of advising clients on their admissions to market stood us in great stead for guiding the Crossword team through all stages of their growth. Having worked with the client for many years our deep knowledge of their business ensured we were able to offer the right guidance and support which included advising on the presale requirements, through to the actual flotation and subsequent board support and governance of all of its placings to date.
In addition we also provide services to the company's wholly owned subsidiary Crossword Consulting Limited as well as two spin out companies, CyberOwl Limited and Byzgen Limited.
Ben Harber, head of the company secretarial team, continues as company secretary to Crossword and is a trusted advisor to the company, its board and senior management.
The Client
Crossword Cybersecurity plc is a technology commercialisation company focusing on the cyber security sector. The team's relationship with the management at Crossword goes back a long way, having advised the current CEO on two previous ventures. Our aim is to build long standing and strong relationships with our clients, developing a deep understanding of their businesses and sectors. As such the team was sought out to advise on the initial setting up of Crossword in 2014 and have been trusted advisor ever since.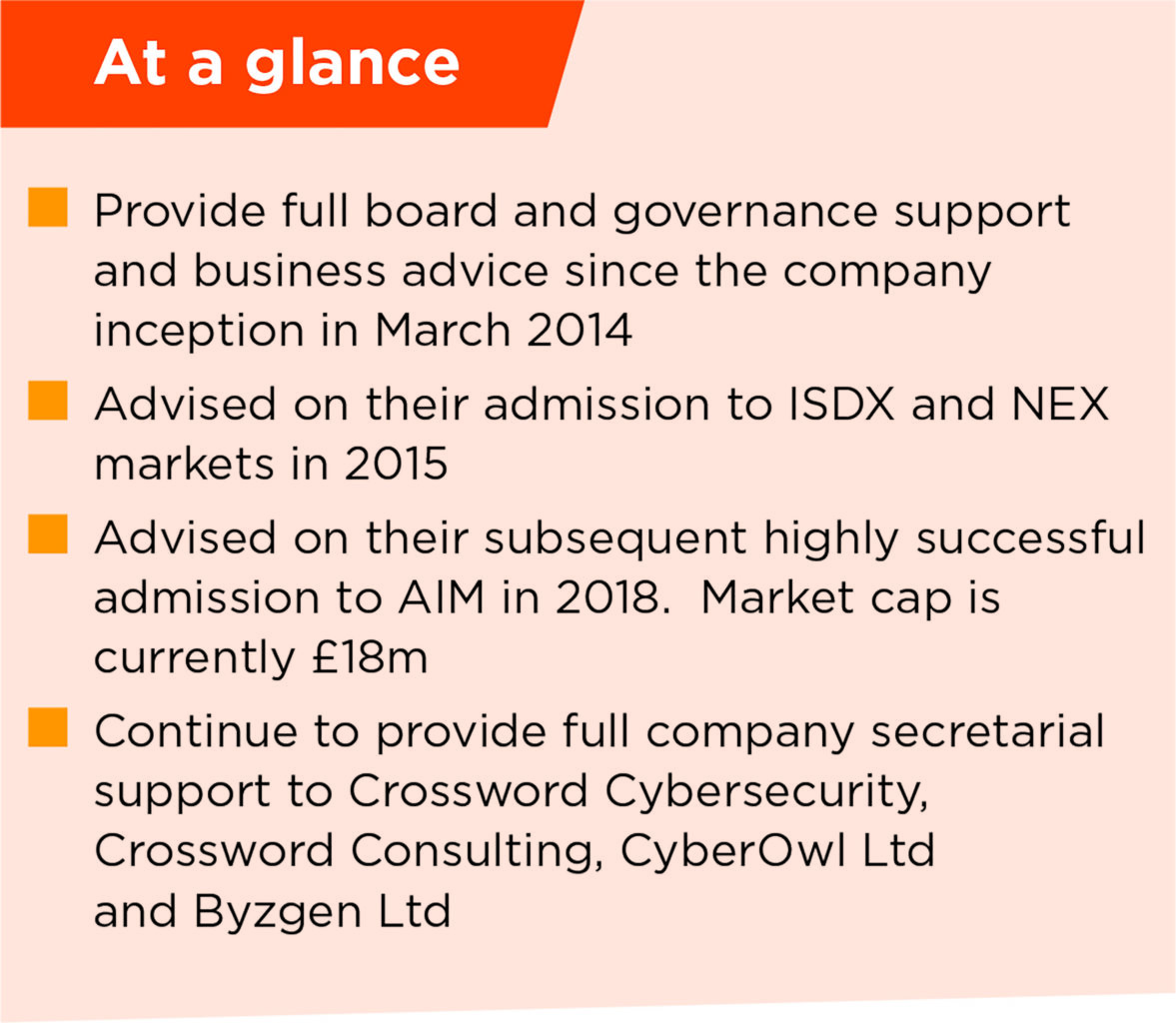 "When Crossword was founded six years ago, I sought out Ben and the team at Shakespeare Martineau right at the start. I wanted a company secretarial partner who could go on the journey from my blank sheet of paper start up to a rapidly growing AIM-listed company and beyond, adapting to our needs and providing excellent support every step of the way. That is precisely what the firm's company secretarial team has delivered."
Tom IIube, CEO, Crossword Cybersecurity plc
Company Secretarial - Our team has the knowledge and technical ability to ensure all your compliance and corporate governance needs are taken care of.
Corporate Finance - We can guide you through all stages of your growth strategy – from early stage, investment and restructurings to M&A, equity and debt markets to tax-structuring and exit.
Corporate & Commercial - Our closely-woven practice areas ensure that you can tap into deeply experienced specialists, no matter what challenge or opportunity you face.
Board Effectiveness Reviews - Our team provide practical actions to ensure your Board can remain, or become, the best version of itself.
Our latest thoughts & insights
Our expert lawyers are ready to help you with a wide range of legal services, use the search below or call us on: 0330 024 0333
From a small roasting operation in Nottingham to it's first barista school and coffee shop, serving high quality coffee and food in a distinctive atmosphere.
The growing business has attracted a £3 million investment from Foresight for it's nationwide expansion of coffee shops while building its wholesale business and online retail coffee subscription model.
Call us on 0330 024 0333 to find out more
about what we can do for you
To raise extra capital, Vucity has obtained equity funding from Savills Group Plc, via its investment arm Grosvenor Hill Ventures Ltd. The investment will be used by Vucity to develop the wider market potential of software it owns of a highly accurate 3D model of London for marketing and technical use.
In a complex and unusual investment transaction, we advised the original investors in selling shares to raise £1 million and coordinating this with the simultaneous investment by the purchaser of a further £3 million. In effect, this has made Vucity into a three-way joint venture.
In addition to the meticulous coordination involved, the transaction called on our skills to balance competing interests and to guide the parties who were inexperienced in corporate deals.
Call us on 0330 024 0333 to find out more
about what we can do for you
Over the last twelve months, we have been assisting our client to prepare the business for sale. This has included dealing with a number of oversize systems in Northern Ireland – where we needed to get the landlord's permission to re-use the systems, dealing with the disposal of oversize systems where landlord's consent was not forthcoming and regulatory issues, and dealing with systems where there were issues with either the registration of the leases or absence of building controls.
These are all crucial matters that need to be resolved ahead of the sale, and illustrate the cross border nature of our renewable energy practice, in this instance the complexities of dealing with Northern Ireland where the renewable energy subsidy schemes differ from those in GB.
This is a multi-jurisdictional transaction with dealings in Northern Ireland.
Call us on 0330 024 0333 to find out more
about what we can do for you
The firm advises a range of clients, large and small, operating in the energy sector. We advised Statera Energy on a complex overage option on a Development Agreement which they had entered into.
Working closely with our colleagues in our dedicated Energy team we were able to offer Statera insight and specific prior knowledge of their industry sector and spoke the same language as them which put us ahead of the game in terms of being able to progress the matter immediately.
Option/overage expertise is a highly technical area so in addition to providing that knowledge and experience we were able to apply it to the particular circumstances of this particular developer in the energy sector.
Call us on 0330 024 0333 to find out more
about what we can do for you
The company ran into trouble with an overgrowing debt burden and attempted to expand into foreign markets. Working with Mazars, the need for urgent action was identified and the need to engage with both the board and 3 main lenders and a major shareholder/creditor, who put in several million pounds of his own money, was polarised.
After exploring various options and engaging with the various stakeholders, the business was offered for sale. This was a highly complex negotiation given the stakeholders. It became apparent that cash was very tight and indeed, in late January 2018 it was identified that the company would not be able to pay their wages.
The team advised Mazars and the company on a two-pronged approach, on the one hand pursuing the sale (50 interested parties came forward) and also engaging in an emergency negotiation with the Home Office and various representatives of the Police forces to explore a funding plan should a wind down be required. A wind down funding plan was agreed with the backdrop of a potential huge impact on the Criminal Justice system as there were 2,100 live cases yet to be completed and potential compromise of important evidence underpinning criminal trials.
The team negotiated, not only the wind down and funding agreement with the Home Office and its lawyers, but ultimately a sale to an unconnected purchaser completing on 15/03/2018. 238 jobs were saved and the business has signed contracts with various Police forces to ensure its continued viability. So complex and significant was this deal that it won Corporate Rescue of the Year Award in the national TRI Awards in November 2018.
Call us on 0330 024 0333 to find out more
about what we can do for you
We advised in the highly complex multi-million pound group reorganisation of Shield. The reorganisation essentially involved splitting two companies – made up of various businesses including those for property investment, different types of engineering and an aluminium foundry – into 12 separate entities.
The financial benefits of this are three-fold: to motivate and reward the management personnel of each business, to access government grants for smaller businesses, and to reduce overall utility costs.
The work involved more than 240 separate documents and took almost six months to implement. In conjunction with tax specialists, we successfully accessed a hugely beneficial tax environment for our client.
Call us on 0330 024 0333 to find out more
about what we can do for you