Shakespeare Martineau announces major structural update
Shakespeare Martineau announces major structural update
Shakespeare Martineau announces organisational restructure, effective 1 May 2020
Introduction of managing directors for new business units across firm
Updated board positions include the appointment of chief transformational officer and chief marketing & people office
TOP 55 law firm Shakespeare Martineau has announced a major restructure of its senior leadership team. Effective 1 May 2020, the firm has made significant changes to its organisational structure to support its ambitious plans for growth, increase collaboration across the business and create a more agile operational model.
Key updates to the structure include the introduction of business unit managing directors and super team leaders as well as introducing regional heads across West Midlands, East Midlands and South. Together, these form a new growth board for the firm.
Sitting on the main board alongside CEO Sarah Walker-Smith and business unit managing directors, will be the newly appointed chief transformational officer (CTO) Karen Walker and recently promoted Ben Buckton as chief marketing and people officer (CMPO).
Sarah Walker-Smith said: "We remain focussed on long-term growth and keeping clients at the heart of everything that we do. We recognise that the best way to do this is through collaboration and taking a market-led approach to our service areas. So we're introducing three business unit managing director positions to the main board, who will be supported by super team leaders. By uniting teams, rather than segmenting them, we are able to provide a more holistic service to clients."
The new structure was launched internally in February 2020 and comes into full effect from the new financial year. It will see the multi-disciplinary firm launch three business units: life and business – led by Victoria Tester; litigation services and dispute resolution – led by Mark Beesley; and infrastructure and specialist markets – led by Alex Smith. Each business unit encompasses a number of 'super teams,' with 'super team leaders' responsible for the growth of each service area.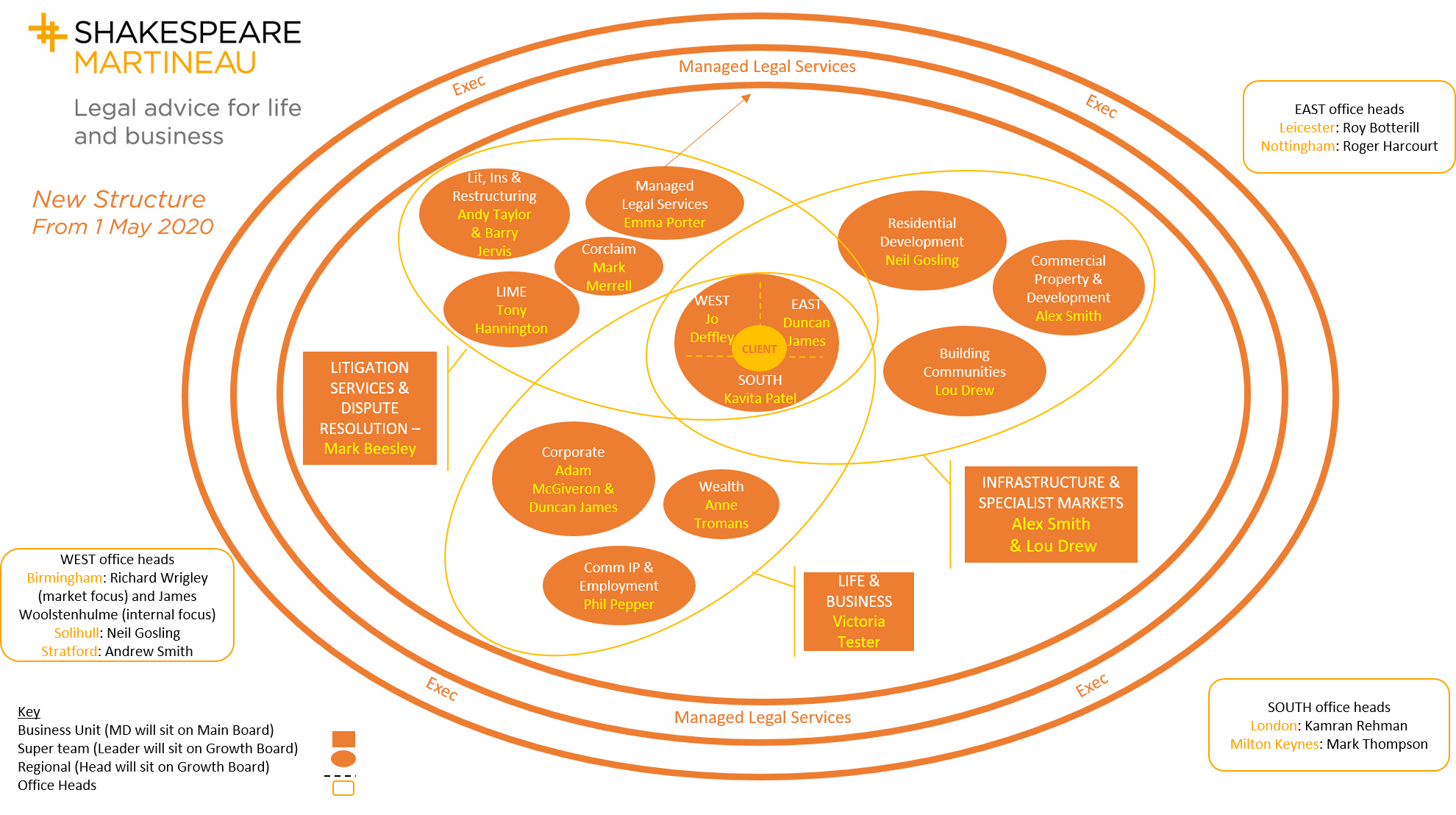 During a phased transition period, Louise Drew will remain on the main board as joint MD with Alex Smith to help set-up the new infrastructure and specialist markets business unit, after which she will take on the role of super team leader for building communities.
During the same period, Alex Smith will also lead the commercial property and development super team with Pete Dilks taking over the role once his transition to infrastructure and specialist markets MD is complete. Super team leader for residential developments - within the infrastructure and specialist markets business unit - will be Neil Gosling.
Working within the litigation services and dispute resolution business unit will be super team leaders Tony Hannington and Mark Merrell who will be heading up Lime (consumer legal services) and Corclaim (volume business services), respectively. Andy Taylor and Barry Jervis will be joint super team leaders for litigation, insurance and restructuring. Finally, Emma Porter will be heading a super team looking for managed legal services opportunities.
Looking after life and business will be Anne Tromans for wealth, Phil Pepper for commercial, IP and employment,  Duncan James super-team leader for corporate. The organisation's eight offices across the UK will collaborate as three regions; East Midlands - led by Duncan James, West Midlands - led by Joanna Deffley, and South - led by Kavita Patel.
Regional heads will be responsible for raising the profile of the firm and aligning growth plans with the overarching business strategy of bringing services together to benefit the needs of clients.
Supporting each region will be the office heads: Mark Thompson in Milton Keynes, Kamran Rehman in London, Roger Harcourt in Nottingham, Roy Botterill in Leicester, Andrew Smith in Stratford, Neil Gosling in Solihull and James Woolstenhulme in Birmingham.
2020 has proven to be a considerably challenging year for all businesses, with many still facing growing uncertainty in the wake of Brexit and more significantly; COVID-19. In a recent survey conducted by Shakespeare Martineau of its people more than 89% were confident in the resilience of the firm following the coronavirus crisis, with 94% confident in Sarah's approach to leadership.
Sarah said: "No one could have predicted the impact of coronavirus on businesses across the globe. However, for us it has only compounded the need for increased agility, collaboration and strong, supportive leadership, which our new structure delivers."
Shakespeare Martineau is the only UK law firm in the top 55 to have a non-lawyer, female CEO and the new organisational structure has resulted in the firm's board being made up of an even split of both genders and both law and non-law professional backgrounds.
"We talk a lot about putting 'round pegs in round holes'," added Sarah. "When the members' board took the unorthodox approach to appoint a non-lawyer CEO it demonstrated to the market our commitment to ensuring that the priority for us is business growth and providing the best service to our clients, above out-dated traditions.
"To ensure decisions are made with the whole firm in mind however, we also have a 'shadow board' that is made up of around a dozen of our exceptionally talented team members from across the business who regularly challenge the main board and help provide a firm-wide view on strategic initiatives."
As part of the organisational changes Shakespeare Martineau welcomes Karen Walker to the firm; previously change and infrastructure director at Browne Jacobson, Karen will oversee the operational evolution of the business as chief transformational officer. With a view to bringing HR and marketing closer together Ben Buckton, previously marketing director for the firm, will be stepping up as chief marketing and people officer.
Ben said: "Our people are our brand – and it's our clients who benefit from our investments in them. With our people and clients so intertwined, we knew it made sense to strategically unite them." Lesley Spencer remains CFO for the firm.
There have been no redundancies made as a result of the organisational restructure.
Our new main board adjusting to a new way of working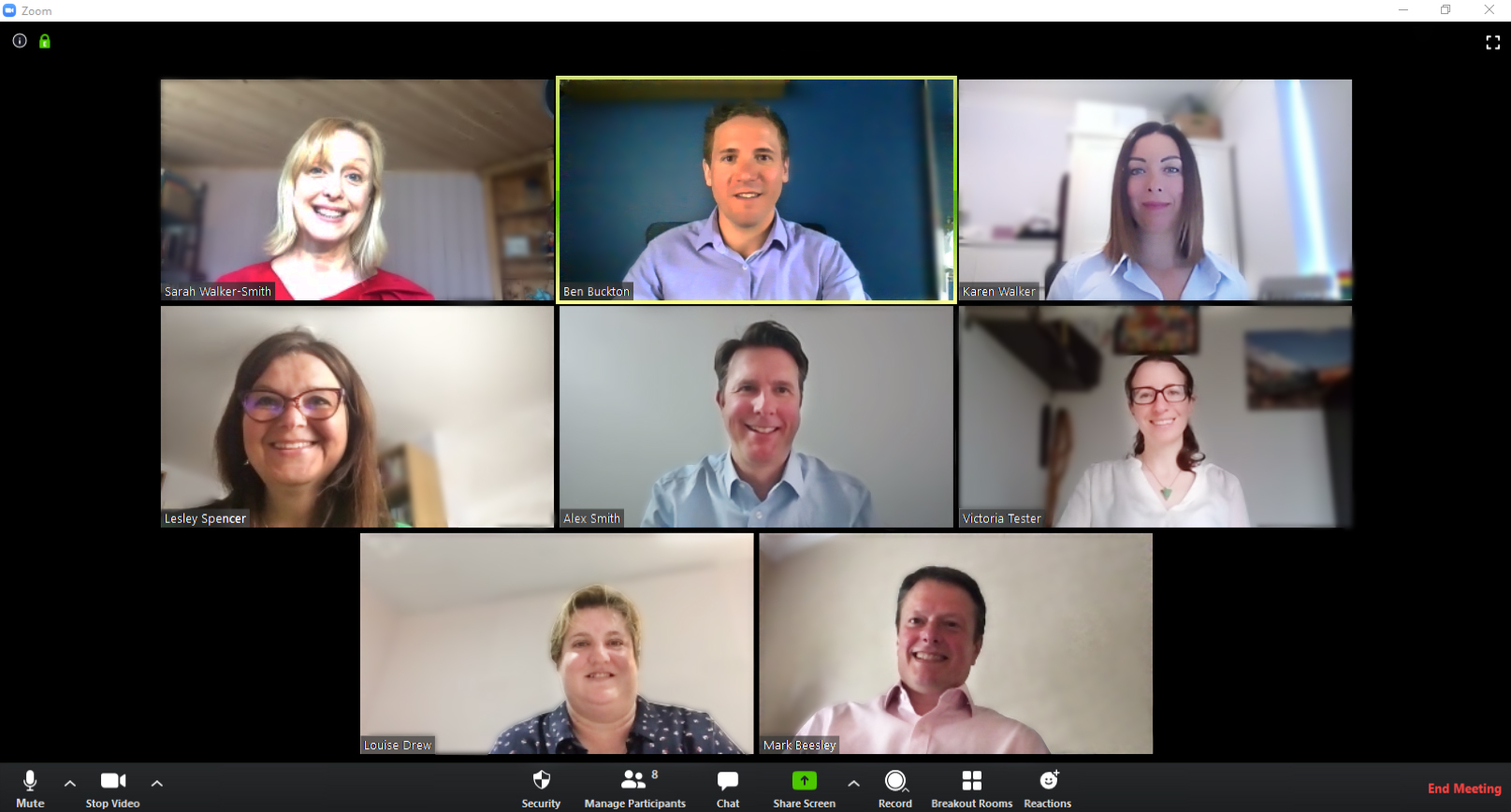 Our super team leaders & regional heads
Our latest thoughts & insights
Our expert lawyers are ready to help you with a wide range of legal services, use the search below or call us on: 0330 024 0333