Overview
Our research shows a total of 759 UK businesses filed for administration in the first six months of 2023 – a 22% increase compared to 2022.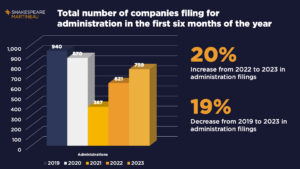 What sectors have been in the spotlight?
Retail, manufacturing, construction, hospitality, and real estate were the worst-hit sectors, accounting for 57% of all administrations. Greater London led the way with 25% of the filings, followed by the North West (15%) and South East (11%), data from The Gazette Official Public Record has revealed.
While administrations are still yet to hit pre-Covid levels (940 in the first six months of 2019), an insolvency and restructuring expert has warned that more businesses will fail unless inflation is controlled and interest rates stop being increased.
What did our Head of Restructuring have to say about the analysis?
Andy Taylor, partner and head of restructuring said: "Given the prolonged economic uncertainty that is plaguing the country, the increase in the number of businesses filing for administration is no surprise.
"HMRC is taking a harder line than in previous periods and its threat of enforcement is certainly pushing some businesses towards considering their options, with some seeking administration as an alternative to facing a winding up petition.
"We're seeing a steady flow of corporate failures. Should some other 'bad news' rear its head, then that is only likely to increase. Businesses and individuals need to see interest rates and inflation come down. With a period of stability, we will see confidence increase."
With the sector's filing almost doubling when compared with the first six months of 2022, the retail industry replaced construction as the worst-hit sector. The hospitality, real estate, and manufacturing sectors also remained in the top five.
Andy said: "The sectors most impacted are feeling the effects of higher interest rates and inflation; the money in people's pockets is now worth less so they are less likely to purchase none essential items and services, which is impacting the retail and hospitality sectors.
"Consumer spending is shrinking and footfall on the high street and in restaurants is declining as a result. The pressure is also on businesses as they face higher borrowing costs and energy expenses, so they are being squeezed from both sides.
"There is still uncertainty in the geopolitical landscape, which is impacting business confidence. With cash flow becoming tight, businesses are at a greater risk of going under. Supply chain issues and the rising cost of importing goods, especially in the automotive industry, have created a challenging juggling act for businesses to maintain profitability."
Greater London remains the region where most businesses filed for administration. However, the North West overtook the South East for second place, and the West Midlands replaced the East of England in the top five.
Andy said: "Our advice remains consistent – seeking professional advice early can open up more options for struggling businesses. It is crucial not to ignore the signs and bury your head in the sand, and, instead, take a proactive approach to address underlying issues. By doing so, businesses can better navigate the tough trading conditions and increase their chances of survival."
How our Restructuring and Insolvency Solicitors can help you?
Our restructuring and Insolvency team can help in many ways including restructuring options and insolvent companies, Cash flow advice, Refinance and signpost to recent government grants, bounce back loans, and CBILs, Directors' Duties, Debt recovery, Negotiating scaled-back credit terms, Workforce planning, Cost control, Advise on communication with key stakeholders: fellow directors, landlords or other creditors, customers and suppliers, or HMRC and much more.
Who are Shakespeare Martineau?
We are a multi-award-winning business that provides legal advice for life and business, our purpose is clear: to unlock potential. 
Working with organisations of all sizes, we deliver a broad range of specialist legal services and has expertise across multiple areas including but not limited to energy, education, banking and finance, healthcare, investment funds, manufacturing, agriculture, family business, Islamic finance, later living, social housing, charities, and real estate. We also provide services for families and private clients.
We are part of the legal and professional services group Ampa, and are a certified B Corporation, meaning we have been verified by B Lab to meet high standards of social and environmental performance, transparency, and accountability.
We have been listed in Best Companies 2022 as one of the top 100 best large companies to work for in the UK and ranked as a top 25 law firm, top 75 East Midlands company, top 75 West Midlands company, and top 50 large London company to work for.
With more than 1,200 people, we have hubs in London, Milton Keynes, Birmingham, Solihull, Stratford-upon-Avon, Bristol, Nottingham, Leicester, Lincoln, Sheffield, and Edinburgh.
Andrew is head of our restructuring, recoveries and insolvency team. He advises on all aspects of insolvency. He works with companies, insolvency practitioners and lenders on restructuring and turnaround options. He also advises on formal insolvency issues including the sales of assets and undertakings, validity of security/appointment, asset realisations, director's conduct and antecedent transactions. He is ranked as a Leading Individual for Insolvency and Corporate Recovery in the Legal 500 United Kingdom 2023 edition.
Corporate Restructuring & Insolvency
Business survival at the best of times is challenging but how you react to the current crisis, and what actions you take now, can help avoid an insolvency situation. Our experts provide advisory, transactional and litigation services in relation to all restructuring and insolvency matters. We are by side when times are tough
Our Latest Restructuring & Insolvency Updates
Our experts are here to answer any questions you might have
If you'd like to speak to a member of our team, please fill out the enquiry form. We will aim to reply to your query within 2 hours
Need to talk to someone sooner? You can call use at the number below