Tuesday 23 November 2021, 16:30 - 17:15 BST
Scotland's population is ageing. The number of people aged 75 and over is set to increase 85% by 2039. It means that, by then, over 800,000 people will be over the age of 75. Currently there is only enough housing with care stock to cater for roughly 1% of over 75's versus other countries such as New Zealand where there's enough for 14%.
Age appropriate housing is essential in ensuring quality of life for many vulnerable older adults and yet the housing with care sector in Scotland is almost non existent. Housing with care is not a solution for everyone, but it is an essential part of the housing mix and for many people who do choose to live in these schemes, their quality of life is excellent.
Recent investment in the housing with care sector in England is indicative of the fact that investors are recognising the opportunity. How can Scotland attract investment and what role does the state play in stimulating supply?
In this webinar we will be joined by Andrew Fyfe, Co-founder of Sovereign Property Partnership, Dr Vikki McCall, Senior lecturer at University of Stirling, Paul Harries, Executive Chairman at Life Care Residences and a panel of other experts to discuss:
Why there is a supply shortage and what the state can do to intervene.

New Zealand v Scotland - Identifying why the two nations are comparable and focusing on a case study of one major operator to examine whether this model would work for Scotland.

What are the challenges in Scotland from an operator/ developer perspective?

What are the common legal obstacles and possible solutions to implement event fees in Scotland?
This is a live webinar and there will be questions and answers at the end but if you wish to put your questions forward in advance, please email these to events@shma.co.uk.
Registered providers, investors, private developers, care home operators, social housing providers who are either looking to develop in Scotland or gain a better understanding of these challenges and opportunities.
Read our retirement housing white paper
We conducted one of the UK's largest consumer perception surveys in the retirement housing sector.
As experts in retirement housing and later living, we wanted to gain a better understanding of what the public thinks about retirement housing schemes and what the industry can do better to raise profile and encourage consumer adoption of these schemes.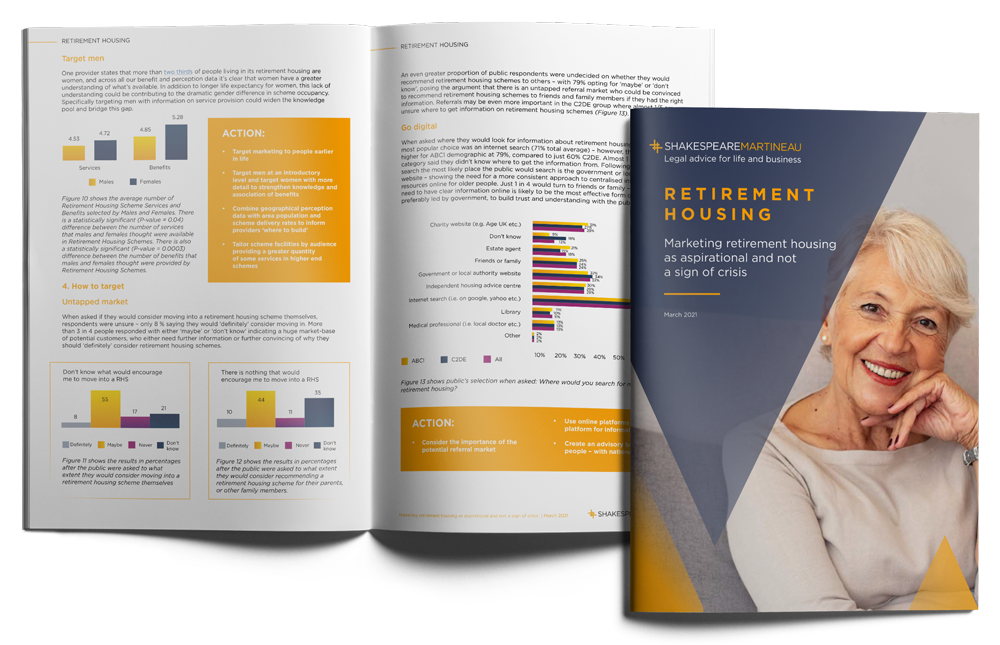 All the latest thoughts and insights from our team
All the latest on-demand content
Our expert lawyers are ready to help you with a wide range of legal services, use the search below or call us on: 0330 024 0333