Smita Jamdar receives doctorate
Education legal expert Smita Jamdar has received an honorary doctorate from the University of Lincoln, as Doctor of Laws, in recognition of her work in shaping universities for the future and insight across all legal needs.
Based in Birmingham, Smita is partner and head of education and full service law firm Shakespeare Martineau and is considered as a leading figure in higher education. The accolade is her second doctorate having received one in 2018 from Warwick University.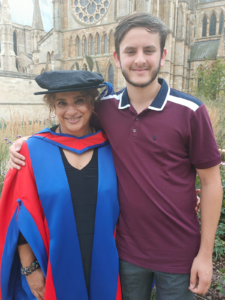 Smita said: "I am honoured and privileged to receive an honorary doctorate from the University of Lincoln. Through my participation in the University's 21st Century Lab project I saw first-hand the insight and innovation that pervades the University's work, and, with my Civic University Commissioner hat on, I am so impressed by its commitment to its communities and region. I am very proud to be associated with an institution that makes such a positive difference through its work."
Joined by students of law, Smita attended a graduation ceremony at the Lincoln Cathedral.
Vice Chancellor Professor Mary Stuart, said: "I have had the pleasure of working with Smita, and know how much she is a recognised leader in our higher education world and the higher education policy field where she has helped to innovate and develop to deliver the best outcomes for students and other stakeholders.
"Graduation is the highlight of the academic year and it will be an honour to welcome our distinguished guests, who have all made outstanding contributions to society and their respective fields."
Smita is a recognised leader in her field, specialising in constitutional, governance and regulatory advice which helps educational institutions thrive in a rapidly changing landscape.