Our eco-friendly office transformation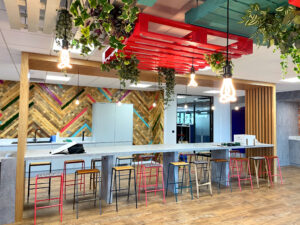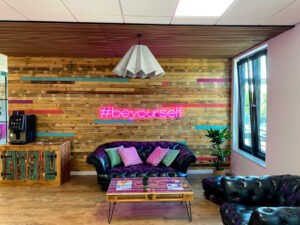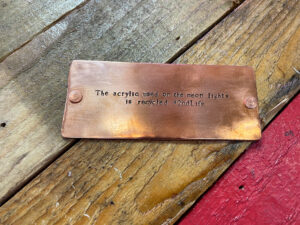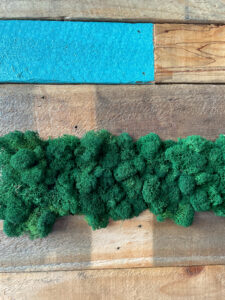 Reclaimed pallet-clad walls and ceiling features, booth seating with sustainably sourced fabric, and tables made from recycled yoghurt pots are some of the eco-friendly features that can be found in our first revamped office hub in the heart of Stratford-upon-Avon. 
Our space – located in Bridgeway House, just off the A3400 and near the River Avon – is the first in our property portfolio to undergo a major makeover to reflect modern, new ways of working and to fall in line with the goals of COP26.
Earlier this month, we announced our pending B Corporation status and 30 ambitious responsible business pledges, including achieving net-zero by 2025 and becoming carbon negative by 2030. 
To support this, more than 80% of the materials used as part of the refurbishment were sustainably sourced, recycled, or reused – including wall cladding made from reclaimed pallets; tables created using Forest Stewardship Council wood; stools made from recycled cosmetic bottles; upcycled chairs, which have been sprayed and re-covered in sustainably sourced fabric; carbon-neutral flooring solutions; neon lights made from recycled acrylic; energy-efficient LED lightbulbs; and finishing touches, such as Beach Clean coasters created using EVA plastic saved from our oceans. 
We also ensured there was minimal impact on landfill by donating all items of furniture that were unable to be reused or upcycled to local charities, religious groups, schools and community groups. 
Karen Walker, chief transformation officer said: "We're delighted with the finished look of our Stratford hub – it reflects our personality and aspirations, while demonstrating our investment in and commitment to our people, the town and Warwickshire.  
"The office was designed as a collaboration hub, creating a place where our people can come together to undertake tasks and activities better carried out in a face-to-face environment, while also supporting agile working with facilities such as a dedicated Zoom room, large planning surfaces, height-adjustable desks, spaces for confidential conversations, and areas to work away from the desk or hold informal conversations, team meetings or to socialise. 
"Our aim is to have a positive impact in all that we do and contribute to a better and brighter future for our people, communities and environment. Our commitment to achieving our responsible business pledges is part of that target, starting with the Stratford hub. 
"Over the coming 24 months, our wider portfolio of hubs will undergo refurbishments to become modern, eco-friendly spaces that promote collaboration between teams." 
The transformation also supports our pending B Corporation status. B Corporation organisations are legally required to consider the impact of business decisions on their people, customers, suppliers, communities and the environment; ensuring a balance between purpose, people and profit.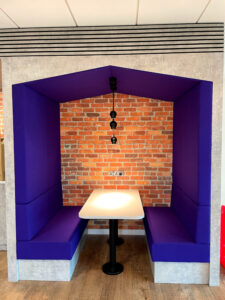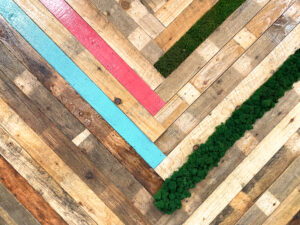 Flexible working is the future
Ben Buckton, our chief marketing and people officer said: "For us, achieving B Corporation status will simply be a by-product of the work we've already been doing to become a better and more responsible business for our people, clients and the planet. 
"We want all our people to work where, how and when they need to, to use their time and balance their life effectively. 
"In our latest firm-wide survey, 88% of our people want to continue with flexible working post-pandemic, so we have taken this as an opportunity to redesign the purpose of our hubs to better support networking, training, client meetings and other activities better done face-to-face. 
"We see lots of firms offering flexible working arrangements, yet they still bind their people to fixed rules and commitments. This doesn't go far enough for us as it doesn't match the reality of life or the new business world; we want our people to have a true work-life balance. 
"We also know that empowering people is the best motivation, and our positive, high-performance work culture is already attracting top talent and expertise from across the UK, which, in turn, delivers the best quality service for our clients." 
Other responsible business pledges made by the firm include increasing female representation within the membership by five per cent (currently 33%) and racial diversity by two per cent (currently 8%), as well as supporting teams by training 100% of managers in wellbeing. 
Working closely with the CEO, CFO, CTO and the Managing Directors of each business unit; Ben is a key driver of our growth strategy – ensuring we make the right investments to develop our people, brands, clients, markets and innovations that unlock potential.