Registered designs are not expensive or difficult to obtain for businesses and can provide strong protection over and above unregistered design protection in the UK.
That said, registered designs have had somewhat of a difficult recent history in the courts of England and Wales.  A selection of recent decisions has perhaps given the impression that registered designs can be difficult to enforce against infringers and led to some uncertainty around filing practices.
However, a recent decision in the Intellectual Property Enterprise Court (IPEC) suggests that the tide could be about to change in favour of registered design owners.
We take a look in more detail at the case.
The Case
In the relatively short judgment of Lutec (UK) Limited & Ors v Cascade Holdings Limited & Or [2021] EWHC 1936 (IPEC), the court found that the claimant's registered designs were infringed by the defendants' outdoor light fittings.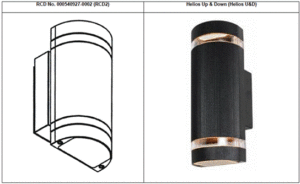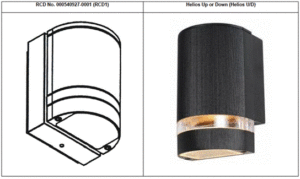 The judge determined that the defendants' "Helios" fittings (pictured right) did not create a different overall impression on the informed user than that of the registered designs (pictured left), which is a part of the test for infringement:
You can find the full decision and the source of the above images at bailii.org.
Interestingly, there was no challenge to the validity of the registered designs based on the existence of earlier designs in the marketplace, which is a common method of trying to avoid a finding of infringement.
If the registration is invalidated, there can be no infringement, so an early search by defendants for pre-existing designs is an important exercise.  Whilst it appears that there was a late attempt by the defendants to put in evidence of earlier designs (which was denied), ultimately they were left exposed with just the question of whether their products infringed.
Whether or not you agree with the outcome, there are a number of important take-home points from this decision which will be of interest to owners and would-be owners of UK registered designs.
Further thoughts
The decision of IPEC Deputy Judge Stone reads very much like a statement of intent for UK registered design infringement cases.
Where the parties and their legal advisers take a sensible approach to the proceedings, registered design proceedings can be streamlined to be dealt with quickly and at a proportionately lower cost.
Since the proper interpretation of the registered designs is a matter for the court, there is no need for expert evidence to address the point, so the added complexity of expert evidence will rarely be required in registered design cases.
This particular claim was issued in August 2020 with the liability hearing in June 2021, and the trial took place by a remote hearing using MS Teams in just over one hour.
Whilst a fully argued validity challenge would have increased the duration of the trial, the point stands that the courts, and in particular the IPEC with its more focused procedural rules, can dispose of registered design cases relatively quickly.
This case should be of interest to a wide range of businesses, including owners of Community (EU) registered designs who will now own equivalent UK "re-registered" designs protecting their UK interests.
If the UK had been previously overlooked in terms of any perceived difficulties with enforcement, it may be time to re-evaluate your design protection strategies in the UK.
Get in touch
At Shakespeare Martineau we have experience of guiding clients through registered design cases in the Intellectual Property Enterprise Court.  If this case is relevant to your business and you require assistance protecting your business' own interests please do get in touch with Daniel Goodall or a member of our Intellectual Property Team.
We have updated our guide to recovery and resilience, helping to support businesses and individuals unlock their potential, navigate their way out of restrictions and make way for a brighter future. Further advice in relation to COVID-19 can be found on our dedicated coronavirus resource hub.
From inspirational SHMA Talks to informative webinars, we also have lots of educational and entertaining content for life and business. Visit SHMA® ON DEMAND.
Our free legal helpline offers bespoke guidance on a range of subjects, from employment and general business matters through to director's responsibilities, insolvency, restructuring, funding and disputes.
We also have a team of experts on hand for any queries on family and private matters too. Available from 10am-12pm Monday to Friday, call 0800 689 4064.